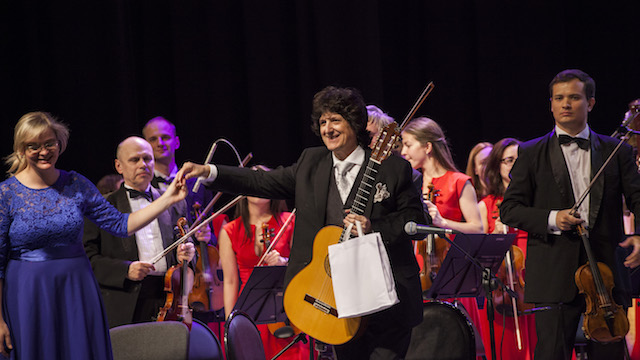 Concert
2018.05.06
A prestigious Russian guitar festival has brought Cañizares back to Russia. The Concert Al-Andalus, dedicated to Paco de Lucía, was the festival's opening performance.
Cañizares opened the guitar festival held in the city of Kaluga, the Guitar World, with the Moscow City Symphony – Russian Philharmonic and master Sergey Tararin. They played the concert Al-Andalus, composed by Cañizares and dedicated to Master Paco de Lucía.
This is Cañizares's third visit to Russia. His first visit was with his Flamenco Sextet, again for the Kaluga guitar festival in 2012. In 2015, he offered 4 concerts in the La Follé Journée festival, in Yekaterinburg.
The first rehearsal took place in Moscow, at the HQ of the Moscow City Symphony. The orchestra caught the rhythms right away, an essential element for this guitar and orchestra concert. As a result, the concert came up nicely from the first rehearsal, and the enthusiasm of the musicians was visible.
The opening concert has broadcasted on the local TV and the national radio of Russia.