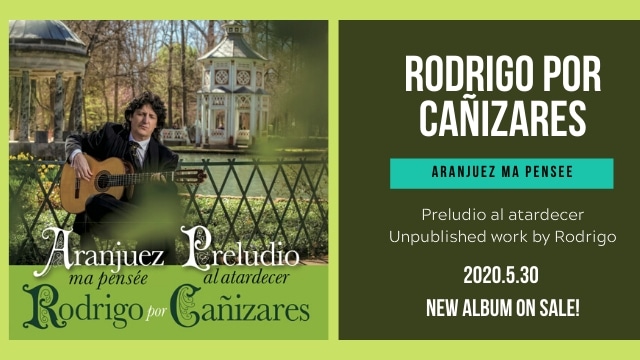 CD
2019.06.02
Cañizares' new album "Rodrigo por Cañizares" with an unpublished work by Rodrigo
Cañizares presents his new album, Rodrigo por Cañizares", which is his 15th as a soloist, and the tenth in his series "por Cañizares".
This album includes an unpublished work by Master Rodrigo, "Preludio al atardecer", which was found in the foundation of Victoria and Joaquín Rodrigo by musicologist Sr. Javier Suarez Pajares. It is a world premiere.
Master Rodrigo composed this work in 1926, and according to the Joaquín Rodrigo Foundation:
"…Given that this work is highly affiliated with flamenco and is of great technical difficulty, Cecilia Rodrigo, only-daughter of the composer and President of the Foundation, personally handed the music to Juan Manuel Cañizares, being the ideal artist in this case to make this first recording…"
The national newspaper El País has published a piece about this recording, and the newspaper digital edition published a video of Cañizares playing it, along with an interview. (interview is only available in Spanish)
【Preludio al Atardecer】
Music: Joaquín Rodrigo
Guitar: Cañizares
This text by Cañizares is included in the album's libretto, and deals with Cañizares relationship with Maestro Rodrigo and his work.
This album, tenth in the series por Cañizares, is dedicated to Joaquín Rodrigo (Sagunto, 1901 – Madrid, 1999), who, nearly thirty years ago, opened my eyes to symphonic music with his immortal Concierto de Aranjuez.
My first encounter with Rodrigo took place in Torrelodones in 1991, 27 years ago, during the recording of Concierto de Aranjuez by the inimitable master of guitar Paco de Lucía, with whom I had the honour to work for ten years. In the first half of these concerts, great Paco played Rodrigo's famous work, and in the second half we played some flamenco pieces. In this way, I had the privilege of listening to Concierto de Aranjuez every night, backstage, in the most emblematic theatres in the world, from Argentina to Japan! This made me understand both that the guitar has almost limitless possibilities, as well as witnessing the greatness and universality of master Rodrigo's work.
Twenty years later, my debut with an orchestra, the Berlin Philharmonic Orchestra, conducted by Sir Simon Rattle, would also be Concierto de Aranjuez.
I was invited to it's Europakonzert, which took place in the Teatro Real in Madrid, in the orchestra's first ever collaboration with a flamenco artist. After this unique experience, I have had the privilege to work with many orchestras all over the world.
I chose the opening piece carefully, Aranjuez, ma pensée, a composition based on the composer of Concierto de Aranjuez' famous Adagio. For this special occasion, I added some tremolo effects to the melody in the arrangements, to recreate a version closer to the orchestral work.
The second track, Preludio al atardecer,is an unpublished work by Rodrigo, composed in 1926 and discovered by Mr Javier Suárez Pajares in 2018. Thanks to the generous permission of Doña Cecilia Rodrigo, daughter of composer, I have had the honour and privilege of interpreting it for the first time in history. The score welcomes the guitarist with a beautiful metaphor: 'At dusk, a guitar sighs, there … almost in the Alhambra'; and indeed, the piece is full of Andalusian flavour and, in some passages, of a marked flamenco imprint.
Cuatro Estampas Andaluzas, Cuatro Piezas para Piano, Tres Danzas y Cinco Piezas del Siglo XVI were composed by Master Rodrigo for piano, the instrument that he played most proficiently: I have transcribed them for guitar and included them in this album as a tribute to him at the 20th anniversary of his death.
This album is a heartfelt tribute to him and his wonderful music, with my gratitude.
April 2019
Juan Manuel Cañizares